Davide Rebellin

We had in mind to involve Davide Rebellin into this movie since our very first project but now we can really say that we're very satisfied of our choice.
He's a great athlete (considering his results and the fact that at the age of 41 years old, he's starting a new adventure in CCC Polska Team) and, moreover, he's a great man.
We don't want to discuss about his past scandals (see Bejiing doping affair in 2008), but from our side we can truly testify how clean and special this person is.
We're sure, he will surprise you!

"I came back after two years of silence and I work with more desire and more angry than before,
I claim my innocence and the right to look forward, trying to be an example for the young generations.
I'm forty, but I don't feel it.»
Davide Rebellin

Davide Rebellin, nicknamed "the altar boy" for his church participation when he was a child and for his quiet and innocent look, since twenty years he has been one of the most determined, aggressive and successful riders in the bunch.
Rebellin made his professional debut in 1992, and since then he has collected many victories, especially during the "classical" one-day races like the Amstel Gold Race, the Flèche Wallonne (3 times), the Liege-Bastogne-Liege and the Tre Valli Varesine.


On August 9, 2008, on his thirty-seventh birthday, he won the silver medal at the Beijing Olympics, but almost a year later, because of new stricter tests on blood samples, he tested positive for Cera.
Then, a new phase of David Rebellin's career started from that moment: infamy, charges of doping and a two years disqualification.
He returned to races after a those two years-ban and, on August 2011, just few days after his 40th birthday, he won the Tre Valli Varesine for the second time in his career.
Lights and shadows, a personal line that could be seen as a metaphor of professional cycling, and that is important to tell and to remember.

(at right: two raw clips from filmed footage)

___________________________________________________________________________________________________________________________________

SOME ARTICLES ABOUT DAVIDE REBELLIN


Davide Rebellin on Wikipedia
Source
Davide Rebellin (born 9 August 1971 in San Bonifacio, province of Verona) is an Italian road bicycle racer, who last rode for the Italian Miche-Guerciotti team.
He served a 2-year suspension for testing positive for Mircera at the 2008 Olympic Games. He is best known in the cycling world for his 2004 season, when he won a then unprecedented treble with wins in Amstel Gold Race, La Flèche Wallonne and Liège–Bastogne–Liège. He is considered one of the finest classics specialists of his generation with more than fifty top ten finishes in UCI World Cup and UCI ProTour classics. Throughout his career he has also won a stage in Giro d'Italia and stage races like Paris–Nice and Tirreno–Adriatico.
Career
Rebellin turned professional in 1992 and came to the attention of the cycling world with a string of strong performances during his early years. In 1996 he gained further notice when he thrived in the 1996 Giro d'Italia. Riding for Polti, the young Italian took stage seven and with it the maglia rosa. He held the leader's jersey for six days and finished the Grand Tour sixth overall. Years later he said of the race, "I have won Classics, but the first important win was in the 1996 Giro, winning the maglia rosa with the stage."
In 1997 he scored his first UCI World Cup victories by winning the Clásica de San Sebastián and the Züri-Metzgete (then known as Grand Prix de Suisse).
The following years he won many Italian classic races like Giro del Veneto and Tre Valli Varesine. In 2001 he won the Tirreno–Adriatico stage race.
During 2004 season he got seven victories, including an, at that time, unprecedented treble win in the Ardennes classics with wins in Amstel Gold Race, La Flèche Wallonne and Liège–Bastogne–Liège. Only Philippe Gilbert has repeated this feat since, in 2011. He also scored a number of podium places in top races such as Paris–Nice and Clásica de San Sebastián. Despite his stellar achievements, Rebellin did not win the 2004 UCI Road World Cup, which went to Paolo Bettini.
In 2005, Rebellin fell short of his triumphs in 2004, but posted yet another solid year. Although he generally concentrated on classics and small tours, he was part of the Gerolsteiner team in the 2005 Tour de France. With a number of solid performances throughout the season, without any individual victories, Rebellin finished as the 3rd highest ranked rider in the UCI ProTour rankings. Apart from the ProTour races, he only won one race in the 2005 season, taking the first stage of the Brixia Tour.
Rebellin began the season leading Paris–Nice until Alberto Contador moved him to second in the final stage to Nice. He later finished second in Amstel Gold Race and won the Flèche Wallonne, which made him the oldest ever winner of an UCI ProTour race. He finished second in the UCI ProTour behind Cadel Evans.
Rebellin triumphed early in 2008 with an overall victory in the Paris–Nice. He won the stage race by 3 seconds ahead of Rinaldo Nocentini.
He went on to win the Tour du Haut Var and show strongly in the Ardennes classics with a second place in the Liège–Bastogne–Liège.
Rebellin won the silver medal in the Men's road race at the 2008 Summer Olympics in Beijing. He was a member of a six-man breakaway group and claimed second place in the sprint finish. This medal has now been revoked in light of his doping sentence by the International Olympic Committee.
Doping
In April 2009, the IOC announced that six athletes had tested positive during the 2008 Summer Olympics, without mentioning names or sports. Later, rumours emerged that the athletes included two cyclists, one of them a medal winner. The Italian Olympic committee then confirmed that a male Italian cyclist had tested positive for CERA during the men's road race, without identifying a name. The next day, on 29 April 2009, the Italian Olympic committee confirmed that Rebellin was an involved athlete. Rebellin's agent sent a request for the analysis of the B sample which was later also confirmed to be positive.


2004, LE FABLEUX TRIPLE' DE REBELLIN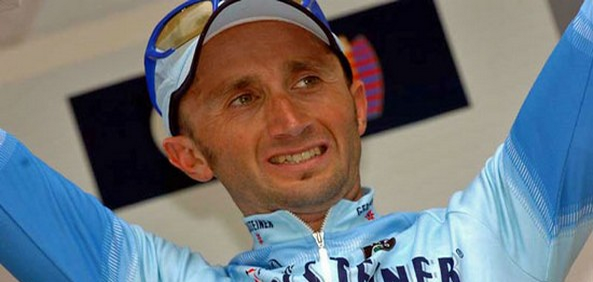 from chroniqueduvelo
L'an dernier, Philippe Gilbert avait gagné succesivement l'Amstel, la Flèche et la Doyenne. Le dernier à avoir réalisé ce fabuleux exploit était Davide Rebellin en 2004. L'Italien de la Gerolsteiner avait éclaboussé le triptyque ardennais de toute sa classe. A la veille de l'Amstel, voici la première partie de notre chronique, la victoire Rebellin en haut du Cauberg devant le héros national, Michael Boogerd.
De nombreuses attaques
Trois hommes font partie de l'échappée matinale. Erik Dekker, qui se fera volontairement décrocher par la suite pour aider son leader Boogerd, le Belge Jan Kuyckx et son compatriote vice-champion du monde espoir, Johan Van Summeren. A l'approche des 50 derniers kilomètres, énormement de coureurs essayent de s'extirper du peloton. A 45 kilomètres de l'arrivée, Rogers, Aldag, Kroon et Verheyen s'échappent et obligent la Fassa Bortolo à rouleur pour ramener son leader, le regretté Frank Vandenbroucke. Après de nombreuses tentatives, c'est au tour de Mazzoleni, Van Goolen, Vicioso, Popovich, Casar, Zberg, Nicki Sorensen et Verheyen de s'échapper. Mais cette dernière tentative est une fois encore un échec. On approche des 20 derniers kilomètres et la course reste encore indécise.
Kessler lance les hostilités, Bettini très costaud
A ce moment, Kessler accélère sur le Eyserbosweg. Derrière, cinq coureurs arrivent à le suivre : Rebellin, Van Petegem, Di Luca, Bettini et Boogerd. Personne n'arrivera à rejoindre le groupe de six, Vandenbroucke, Camenzind, Mazzoleni, Bartoli, Brochard et le leader de la coupe du monde Wesemann, sont piégés. Sur le plat, c'est Bettini qui accélère, mettant en place le rythme du groupe. Le champion d'Italie en titre est très en forme, mais il se fera avoir à son propre jeu.
Boogerd et Rebellin s'isolent en tête
Après une nouvelle accélération de Bettini à un peu plus de 10 kilomètres de l'arrivée, Rebellin le rejoint. Derrière, c'est Boogerd qui mène le groupe de quatre. Après la jonction, Boogerd poursuit son effort et le coureur de la Gerolsteiner le suit. Un duo se forme et ils ne seront jamais rejoint. Dans le Keuteberg, dernière difficulté avant le Cauberg, le duo accentue son avance. Derrière, Di Luca attaque, il prend rapidement une cinquantaine de mètres d'avance. Bettini lui peine, il ne peut pas répondre, mais le coureur de la Saeco sera repris quelques minutes plus tard. Rebellin et Boogerd filent vers le Cauberg pour se disputer la victoire.
L'erreur de Boogerd, Rebellin s'impose
Les deux coureurs sont sous la flamme rouge, ils abordent le Cauberg. Le public applaudit et encourage leur idole néerlandais, placé dans la roue de Rebellin. Il reste 500 mètres et c'est à ce moment que le coureur de la Rabobank décide d'accélérer. Mais il est obligé de s'asseoir à 50 mètres de la ligne et Rebellin le coiffe sur le poteau pour remporter sons premier et dernier Amstel Gold Race. Derrière, Bettini règle au sprint le petit groupe de poursuivants devant Di Luca et Van Petegem qui complète le top 5. Boogerd échoue sur le podium de la classique néerlandaise pour la 5e fois, pour seulement un succès. Mais cette fois-ci, il aura encore plus de regrets que sur les autres années. Très nerveux, le leader de la Rabobank n'a pas été très lucide lors de cette dernière ascension du Cauberg. En attaquant de si loin, avec le vent de face, ses chances de victoires étaient devenues très faibles, alors qu'il avait probablement de meilleures jambes que l'Italien, plus rusé.
A 32 ans, Rebellin remporte sa première ardennaise et sa 3e classique de coupe du monde, après ses victoires en 1997 sur le Gp Zurich et sur la Classica San-Sebastian. Mais ce premier succès n'est qu'un début et son prochain fait d'arme se fera le mercredi suivant, sur la Flèche Wallonne.
Mehdi Khouch


Davide Rebellin scores rare triple Cycling Classic
from "THE AUSTRALIAN"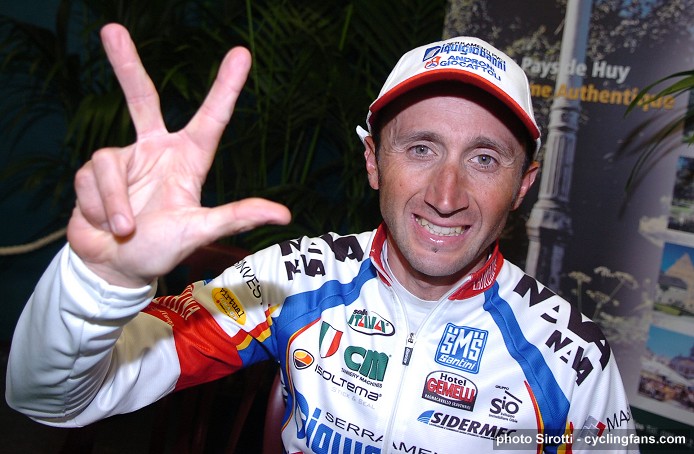 AUSTRALIA's Cadel Evans has faded to fifth place in the Fleche Wallonne one-day classic after Italian veteran Davide Rebellin joined an elite club of triple winners.
Rebellin, who previously won in 2007 and 2004, played a smart waiting game on the notoriously steep "Mur de Huy" climb before overtaking Luxembourg's Andy Schleck then Evans in the final 200 metres on his way to triumph.
The 37-year-old Italian promptly pointed to his head as he crossed the finish line of the hilly 195.5km race, his gesture appearing to underline the old cycling adage that you need the head as well as the legs to be successful.
It means Rebellin becomes only the fourth rider in the race's 73-year history to win it three times, after Belgian pair Eddy Merckx and Marcel Kint and Italian Moreno Argentin.
In his wake Schleck, of the Saxo Bank team, came in second place while Damiano Cunego of Lampre took third place for the second consecutive year.
Rec Coverage 28 Day pass
Evans had been hoping to go one better than his runner-up place to Luxembourg's Kim Kirchen last year but the Australian's efforts driving the pack on the final, steepest sections of the climb appeared to take their toll.
After his efforts had allowed Schleck and Rebellin to sit on his wheel, the Silence-Lotto rider eventually slipped to fifth place, one behind Olympic road race champion Samuel Sanchez of Spain.
For much of the day the peloton pursued solo breakaway rider Christophe Moreau, who had escaped early on and went on to build a lead of over six minutes, at a comfortable pace.
Whether or not the veteran Frenchman's pride had been piqued by the lack of any French winner in the race since Laurent Jalabert in 1997, his bid was soon doomed as the peloton chased him down in the closing 50km.
Moreau, of the Agritubel team, was caught with 23km to go and from there a series of attacks and counter-attacks came and went in the lead-up to the Mur de Huy which often decides the winner.
One of those attacks was by Rebellin's Columbian teammate, Jose Serpa.
Although futile, it gave Rebellin's team an option and gave the Italian the luxury of sitting on the wheels of those anxious enough to give chase.
At the foot of the third and final climb to the summit of the Mur de Huy the peloton and all the favourites were all together, only for another Frenchman from Agritubel, David Lelay, to shake things up.
However, his attack, with nearly 1km of climbing to go, was more than audacious and moments later a rapidly tiring Lelay was overtaken by those wise enough to know the toll that can be paid on the "Mur".
AFP


End of the road? Davide Rebellin's career looks like it could be over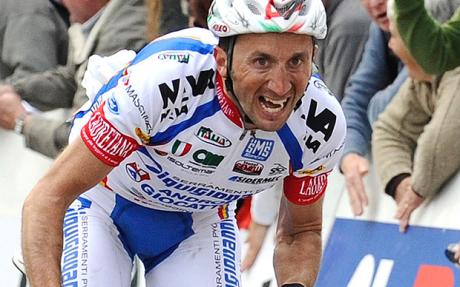 By Brendan Gallagher
from "The Telegraph"
Rebellin, 37, who earlier this month won a record-equalling third Flèche-Wallonne one-day classic race in Belgium – has registered several one day victories during his career most notably in 2004 when he won an impressive hat-trick of the Liège-Bastogne-Liège, Flèche-Wallonne and the Amstel Gold races back-to-back.
However, on Tuesday the Italian Olympic Committee (Coni) announced – after being informed by the International Olympic Committee (IOC) – in a statement that an Italian 'athlete' in an unspecified sport had failed a dope test. Six athletes in all have been exposed by the retrospective tests – none of them are believed to be British.
Cera (Continuous Erythropoiesis Receptor Activator) is effectively a delayed form of EPO whereby the athlete feels the effects a month after taking the drug and for which two of Rebellin's Gerolsteiner team-mates German Stefan Schumacher and Austrian Bernhard Kohl tested positive for in last year's Tour de France.
Rebellin subsequently joined the Diquigiovanni team for this season and had been due to compete in the Giro d'Italia, which starts on May 9 in Venice.
Another Italian rider, climbing specialist Riccardo Ricco, had also tested positive for this new form of EPO during the 2008 Tour de France – the 25-year-old is suspended till March 2010.


Davide Rebellin has Olympic drug case appeal rejected
from BBC Sport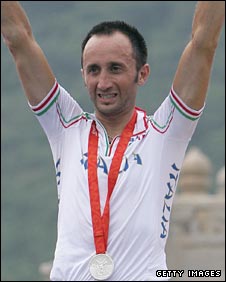 Italy's Davide Rebellin has lost his appeal against being stripped of the silver medal he won in the road race at Beijing Olympics in 2008.
The 39-year-old cyclist appealed to the Court of Arbitration for Sport after the International Olympic Committee disqualified him in November 2009.
He tested positive for blood-boosting agent Cera in April 2009 when the IOC submitted samples for a new test.
But Cas rejected his allegations that the testing had been flawed.
Rebellin was one of five athletes to test positive in April last year for Cera, an advanced version of the blood-boosting drug EPO.
Samples taken at the Beijing Games were submitted to a new test at a laboratory in Chatenay-Malabry in France.
Rebellin alleged mistakes were made in the analysis procedure and also challenged the validity of the test itself.

In its judgement, the three-man Cas panel rejected his submissions, however.
The court's statement read: "The Cas panel has rejected all the arguments put forward by the athlete and has confirmed that the procedures of the chain of custody have been complied with and that there was no departure from the international standards for laboratories which could have reasonably caused an abnormal analysis result.
"Furthermore, the Cas panel has confirmed that the presence of Cera has been validly detected in the blood samples of the athlete and that the laboratory... applied a method of detection which already existed and was already validated."
The decision leaves Rebellin facing suspension by the International Cycling Union.
With his disqualification confirmed, the IOC has said it will reallocate the silver medal to Switzerland's Fabian Cancellara, who finished third in Beijing.
Fourth-place finisher Alexander Kolobnev of Russia will move up to the bronze medal poisition.
Italy's Olympic committee has also demanded that Rebellin repay his 75,000 euro (£62,700) silver medal bonus.


Davide Rebellin vows comeback following doping suspension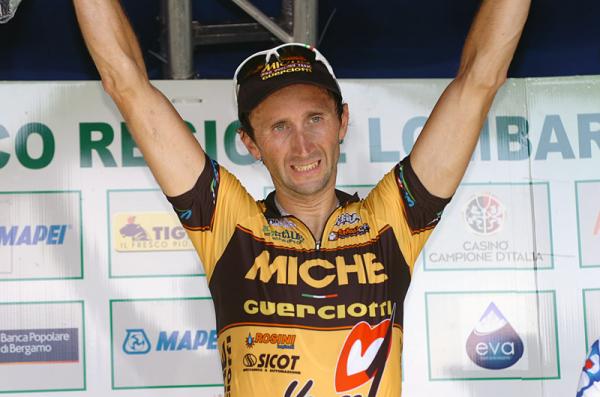 from Velonews.com
Davide Rebellin – the veteran Italian who was banned for two years and lost his silver medal for testing positive for CERA during the 2008 Olympic Games – vows to return to professional racing next season when his ban ends in April.
Rebellin, 39, lost his appeal to the Court of Arbitration for Sport last July to try to salvage the silver medal he claims he won fairly during the men's elite road race in Beijing. CAS denied the appeal and Rebellin is serving out his two-year ban that ends April 27 next year.
"I have some teams interested in me, and two offers are quite interesting. I will decide by December," Rebellin told the Giornale di Vicenza. "I want a team that can get me back into the biggest races, first the classics and hopefully the world championships with the Italian selection if I deserve it. I have at least two more seasons of racing of in me, then we'll see what happens."
Rebellin said he has been maintaining his rigorous training workouts despite the racing ban, riding up to 33,000km this year, and said he maintained close contact with other pros based in and around Monaco.
"I've been training as if I were racing the next week. I replaced the races with intense workouts to simulate the effort of racing," he continued. "I trained with Vinokourov and Gilbert, also with a lot of the Australians, but they stop too often at the bar for coffees for my taste."
It will be interesting to see who Rebellin's return is welcomed by some of the major race organizers, who have taken a case-by-case posture on riders returning from bans.
Some riders, such as Ivan Basso and Alexander Vinokourov, returned to major events with the firm backing of teams and organizers, while others, such as Riccardo Ricco, were shunted aside. Ricco was snubbed by Giro d'Italia organizers last year when his Flaminia squad was not invited to start Milan-San Remo or the Giro.
Rebellin has been reluctant to publicly speak about his racing ban, which was surrounded by controversy. His Beijing samples were frozen and later retested seven months after the Olympic Games to reveal traces of the banned blood booster CERA. He strongly denied taking the drug, but was banned nonetheless.
Officially, he's been stripped of his silver medal, meaning that bronze medalist Fabian Cancellara should be receiving a medal of a different shade, while fourth-place rider Alexander Kolobnev should see him bumped up to bronze. Neither rider has said they have received official recognition of the adjusted standings from either the UCI or the IOC.


Rebellin aims to continue for two more years
From Cycling News - Published: August 17, 2011
photo @Sirotti
Italian tested just three times since return from suspension
Davide Rebellin may have emerged victorious at the end of the Tre Valli Varesine on Tuesday, but he said that he felt "an explosion of anger" on crossing the line at Campione d'Italia.
It was Rebellin's first win since his return from a two-year suspension after testing positive for CERA at the Beijing Olympics in 2008. His ban ended in April, and the 40-year-old has enjoyed a string of remarkable results this summer since joining Continental outfit Miche-Guerciotti.
Rebellin admitted to Gazzetta dello Sport after the race that he has been tested just three times since his return to competition: "once at my home in Monte Carlo, and twice at races."
However, Rebellin was reluctant to countenance the notion that many fans would question the credibility of his victory given his sullied reputation.
"It's always been said that doping shortens your career, and I'm 40 years old," he said. "The people who know me have always been on my side."
Italian Olympic Committee president Giovanni Petrucci has been stringent in his criticism of Rebellin's return to cycling, but the rider insisted that he was unconcerned by such censure. Rebellin also claimed that even though he handed back his silver medal from the Beijing road race, he still feels views himself as an Olympic medallist.
"He [Petrucci] can express himself as he wishes," Rebellin said. "I don't think I'm the cause of cycling's ills.
"For me the matter of Beijing is closed and I don't want to start a polemic. In my heart I still feel that medal is mine. In any case, I've paid and now I have come back like before, only with more anger. Here I've shown that an athlete who lives a regular life and has passion can get results."
As well as being sidelined by suspension, Rebellin has suffered upheaval in his private life over the past two years, as he separated from his wife and manager Selina, and was recently charged with tax evasion by Italian police. Perhaps it was little wonder, then, that his Tre Valli Varesine victory constituted "a liberation."
"It was an explosion of anger," Rebellin said of his shout on crossing the line. "I relived the two most difficult years of my life."
While Rebellin will focus on the Italian calendar for the remainder of the season, he revealed that he hopes to continue his career at a high level for two more years, with Gazzetta suggesting Astana as a possible destination. Rebellin also maintained that he had grown stronger during his suspension, in spite of his advanced years and lengthy lay-off.
"In these two years, I've even improved," he claimed. "Now on long climbs I can hold on for longer. I still have a pair of good years to show it."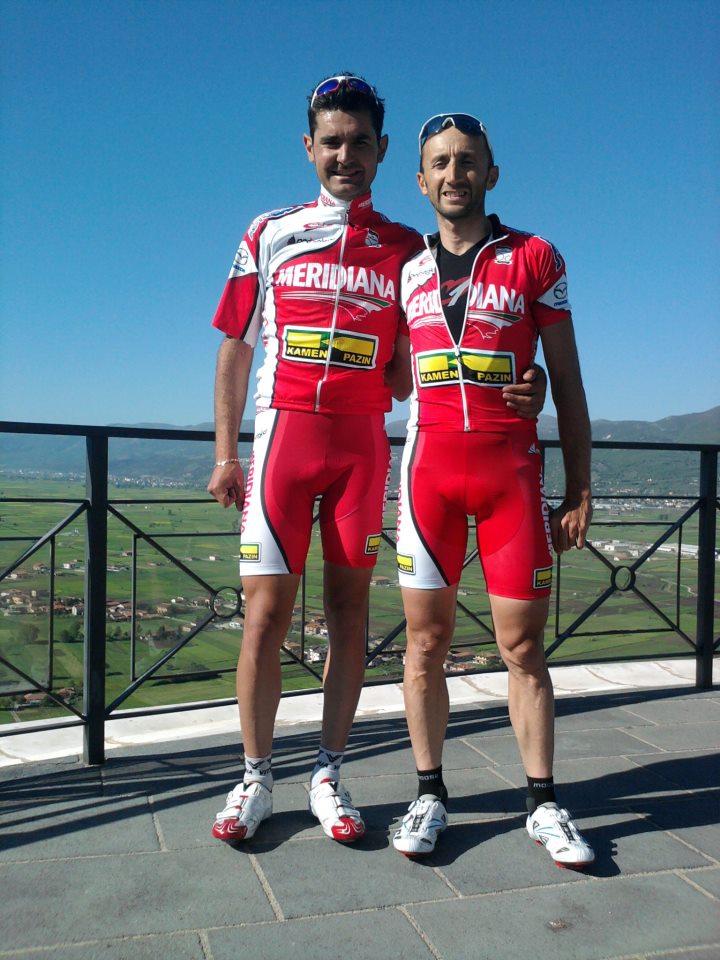 Rebellin signs with Meridiana Kamen Guerciotti team

by Shane Stokes
From Velonation
Saturday, May 12, 2012
New team-mate says Italian is extremely focussed
Davide RebellinFollowing a search for a team for the current season, former Classic specialist Davide Rebellin will attempt to get his career back on track at 40 years of age with the small Meridiana Kamen Guerciotti team.
The squad is best known for giving Riccardo Riccò the offer of a contract last year. The Italian was not permitted to take up that offer as he was suspended by the Italian cycling federation on health grounds. The team then attempted to sign him again this season after he tried to take out a Croatian licence, but this move was blocked by the UCI. Riccò was subsequently handled a twelve year ban.
Now, continuing the pattern of taking on Italian riders with complicated backgrounds, the Croatian squad has agreed terms with Rebellin. He confirmed the signing on the team's Facebook page. "A new adventure begins with the Meridiana Kamen Guerciotti Team... It will be a season in red ...Red like passion, anger and my heart that still has much to say on the road." Rebellin was regarded as one of the best Classic riders of the modern era, taking the extremely rare triple of Liège–Bastogne–Liège, Amstel Gold and La Flèche Wallonne in 2004, winning the latter again in 2007 and 2009, and also taking the Clásica de San Sebastián and Züri-Metzgete. His victories also include Tirreno-Adriatico and Paris-Nice, plus a stage in the Giro.
Rebellin finished second in the 2008 Olympic road race in Beijing, but was subsequently found to have used the EPO-like booster CERA. The positive test was announced in April 2009 and while Rebellin denied doping and fought the case before CAS, he was deemed guilty and suspended for two years until April 2011.
He returned to competition last year with the Michel team and clocked up successes in the Tre Valli Varesine and Trofeo Melinda. Despite that, his hopes of securing a big contract didn't pan out and he faced a fight to secure a team for this year.
New team-mate David Mclean believes that he is very focused. "What was clear when I was training with him was that firstly he is very good still, and secondly this guy is extremely professional," he said in his blog on the VeloVeritas site. "He lives a very dedicated lifestyle that is based solely around cycling. He has no distractions, no family, no worries, just the bike. I doubt he has ever had any distractions, there was an aura of focus about him that I haven't really seen in anyone before."
Rebellin will need that focus; he'll be 41 in August and is battling against time in trying to get back to a high level.



Rebellin joins CCC Polsat-Polkowice in 2013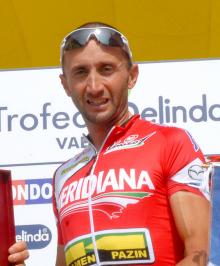 By: Cycling News
Published: October 27, 05:41,

Polish team returning to Pro-Continental status
Davide Rebellin will ride for CCC Polsat-Polkowice in 2013 after spending the 2012 season with the Meridiana - Kamen Team reports Biciclismo. The 41-year-old Italian has continued to perform, albeit at lower-ranked races, since returning from his positive test for CERA at the 2008 Olympics.
Rebellin is one of only two riders in history to win the 'Ardennes tripple', taking out Amstel Gold, La Flèche Wallonne and Liège-Bastogne-Liège in the same year.
Rebellin enjoyed the victorious 'triple win' week in 2004 while Philippe Gilbert repeated the Italian record in 2011. Rebellin had won a silver medal at the 2008 Beijing Olympics before informed of his positive control in early 2009 and was subsequently stripped of his medal and result.
After serving a two-year suspension he returned with Miche-Guerciotti and rode alongside Stefan Schumacher. Rebeillin enjoyed wins at Tre Valli Varesine and Trofeo Melinda before the team scaled back to just seven registered riders in 2012.
After a relatively light season riding for the Meridiana - Kamen squad Rebellin will no doubt look to enter some bigger races in 2013 with CCC Polsat. His new Polish team is reportedly applying for a Professional Continental license for next season after a year at the Continental ranks.



Rebellin no se rinde: "Me siento con mucha fuerza y con más ganas y rabia que antes"
from Biciciclismo
Davide Rebellin tiene 41 años y cumplirá 42 en 2013. Pero tiene una ilusión y una fe inquebrantables. Y, sobre todo, pasión por el ciclismo. "Amo este deporte", sostiene. De lo contrario, no se entendería su empeño por seguir en activo después de vivir la gloria y caer a lo más bajo desde 2009. Una pesadilla de cuatro años en los que no se ha rendido y ha superado con éxito su etapa más dura. Cuando otros se habrían dicho basta, él ha multiplicado su convicción, y el próximo año correrá en el CCC Polsat-Polkowice polaco para probar al pelotón que aún tiene cuerda para rato. "Aún puedo ganar buenas carreras, por eso precisamente sigo. Quiero demostrar eso, que soy competitivo pese a mi edad", asegura en una entrevista a BiciCiclismo.
El ciclista italiano, que logró el triplete Amstel-Flecha-Lieja en 2004 y que acumula un palmarés brillante, está asentado de nuevo en todos los aspectos de la vida después de correr desterrado en equipos como Miche y Meridiana. Ahora no quiere dejar pasar la oportunidad. Y vuelve con "más motivación" y con "más rabia" que antes. Ni en los peores momentos se ha bajado de la bicicleta. "Nunca he dejado de entrenar, eso no se ha modificado", asegura. Tampoco ha cambiado su tono de voz y amabilidad. Y sus sueños: las grandes clásicas de las Ardenas.
¿Cómo afrontas esta nueva etapa deportiva en el CCC?
Estoy muy ilusionado y contento por esta oportunidad en el CCC polaco. Llevan muchos años en el ciclismo y ahora quieren crecer y dan un paso más grande. La plantilla se ha reforzado y tenían la necesidad un corredor de mi experiencia.
Pasas de la categoría continental, en Miche y Meridiana, a la Segunda División.
Es un paso adelante. Para mí es importante poder competir en un calendario más amplio y en carreras de más calidad. Como Profesional Continental, el equipo puede ser invitado a las grandes clásicas, como Flecha-Valona, Amstel o Lieja o en España San Sebastián. Por ejemplo, vamos a correr la Volta a Catalunya. Además, tener ya equipo me da tranquilidad sobre todo significa poder comenzar la temporada corriendo; es otra diferencia con años anteriores cuando empecé a correr más tarde. Aún no tengo un programa definido. Por ejemplo, para el equipo es muy importante el Tour de Polonia, que es WorldTour y también para mí porque empezará en Italia.
Esperas invitaciones de pruebas WorldTour, por tanto.
Sí, realmente espero invitaciones para participar y correr esas clásicas. Las Ardenas son pruebas muy importantes y especiales para mí. Son ya cuatro años en los que no he podido correr esas clásicas. Yo creo que puedo hacerlo bien y conseguir resultados. Mi nivel es bueno, como hace cinco o diez años. Y tengo experiencia, algo muy importante en este tipo de carreras. Pienso que puedo ser capaz de ganarlas, aunque no he competido con grandes corredores como Valverde o Joaquim Rodríguez en los últimos años.
¿Te sientes competitivo?
Yo creo que aún puedo ganar buenas carreras, por eso precisamente sigo. Quiero demostrar eso, que soy competitivo pese a mi edad. Me siento con mucha fuerza. Tengo una importante motivación que es clave para ganar. Estos dos años siempre he estado delante, he ganado o estado muy cerca. En cada carrera, he luchado por los primeros puestos pese a acumular pocos días de competición.
Dicen que tu motivación es mayor ahora que antes.
En mi carrera he ganado mucho y no necesito demostrar nada más. Pero, sí, tengo muchas ganas, incluso más que antes, porque quiero demostrar que puedo ganar con 42, 43 años, que con esta edad es posible ser competitivo y estar al máximo nivel.
Y aseguran que tienes algo que faltaba antes, rabia, después de estos cuatro últimos años.
Tengo más rabia, seguro. Y por ello continuo. Los últimos años he dado mi máximo, para entrenar y competir. Sí, yo creo que aún puedo ganar. ¿Hasta cuándo? No lo sé. El día que no me sienta bien o no lleguen las victorias, quizá sea el momento de decir baste y dejarlo. Por el momento, no. Y entreno a tope, como siempre en mi carrera profesional, eso no ha cambiado.
¿Hasta cuándo? No lo sé. El día que no me sienta bien o no lleguen las victorias, quizá sea el momento de decir baste y dejarlo. Por el momento, no. Y entreno a tope, como siempre en mi carrera profesional, eso no ha cambiado.
¿Por qué esa rabia?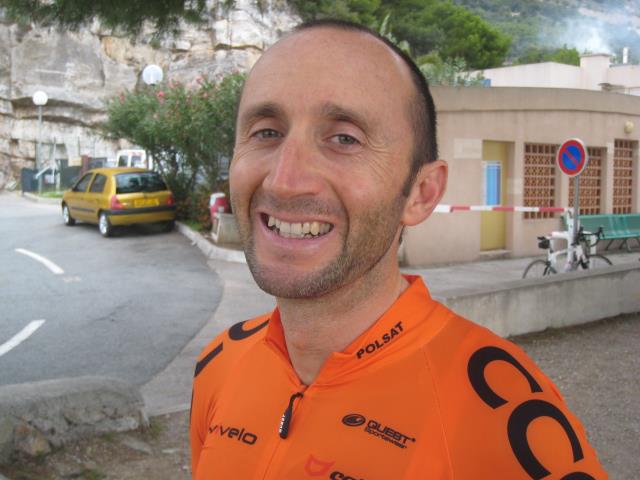 Por cuando me he encontrado las puertas cerradas de muchos equipos. Sobre todo, por la rabia de decir aquí y estoy demostrar que aún puedo ganar y que puedo correr al máximo nivel. El tema de los Juegos Olímpicos (ndlr. dio positivo por Cera y fue suspendido dos años por el TAS) me cerró muchas puertas. Ahora he demostrado que estoy aquí y que puedo ser tan fuerte como antes. Y, mira, alguna puerta se abre, como la del CCC.
¿Esperas volver a correr en un equipo de la élite o crees que ya no será posible?
Sí, por qué no. Incluso en el CCC. Estoy muy contento. El sponsor es muy importante y tiene mucha pasión por el ciclismo. Quién sabe si da más pasos adelante.
Tu experiencia, como dices, es un aval, ¿serás también maestro de tus compañeros de equipo?
Sí, es algo que me gusta, entrenar y enseñar a los jóvenes. Es algo que quiero hacer en el futuro, ofrecer y trasmitir mi experiencia. De hecho, este año ya trabajé con algunos chicos en Montecarlo. Y ahora espero hacerlo en el CCC.
Vamos, que seguirás ligado al ciclismo después de colgar la bicicleta.
Sí, claro, porque yo disfruto y quiero seguir en este deporte siempre que conozco muy bien. Incluso tengo un proyecto de organizar stages para cicloturistas y aficionados, posiblemente en Andalucía. Y estoy seguro que cuando termine de competir seguiré saliendo en bicicleta los días que pueda y estaré en forma porque amo mucho este deporte
Estás muy ligado a Andalucía, ¿por qué?
Efectivamente. Me gusta mucho Puerto Banús, Marbella, Málaga… Me encanta Andalucía y España, el ambiente, la competición, el ciclismo español en general. Y el tiempo, claro. Tengo muchos amigos allí y cuando puedo me escapo al sol. Incluso en su día negocié con el Andalucía aunque no pudo ser. Ahora vivo y entreno casi siempre en Montecarlo, pero cuando el tiempo es malo aquí viajo a Andalucía, sin duda. Ahora seguiré entrenando en Montecarlo y estaré en España en diciembre y enero porque el equipo se concentra en Calpe.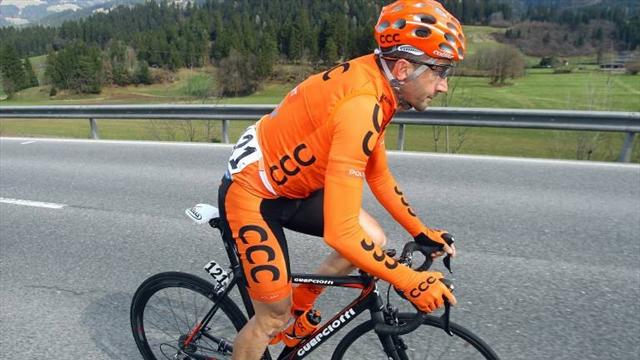 Rebellin claims Polish opener
from
asia.eurosport.com
Davide Rebellin led a CCC Polsat Polkowice one-two in the first stage of the Szlakiem Grodow Piastowskich in Poland.
Italian rider Rebellin claimed the stage victory ahead of Polsat team-mate Marek Rutkiewicz, with Bartosz Huzarskiemu of Team NetApp-Endura third.
Conditions were poor, with riders' efforts hampered by cold, rain and mist, with several players pulling out early in anticipation of five gruelling categorised climbs.
Polsat's Bartlomiej Matysiak, who had been in the lead after winning Thursday's Criterion stage, was involved in the first attack but his role was primarily to reel in the likes of Marek Mixa, Marcin Sapa, Tino Thomel and Roger Kluge.
Polsat continued to dictate the pace, while a second breakaway also came to little as Matysiak and Sapa took points in the mountains.
But the peleton caught up for the final sprint, which was led by Rebellin, who takes a three-second overall lead ahead of Rutkiewicz.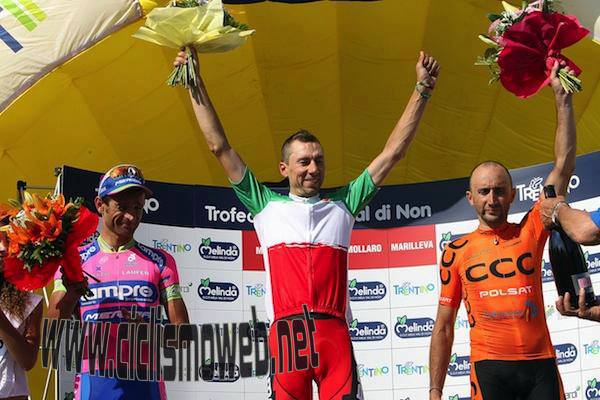 Santaromita wins Italian national road race title
BMC rider beats Scarponi and Rebellin
from Cyclingnews.com
Ivan Santaromita (BMC) won the Italian road race title after he out-lasted Michele Scarponi (Lampre-Merida) and Davide Rebellin (CCC-Polsat) on the demanding uphill finish at Fondo.
The trio were part of a five-man move that went clear on the final lap and as the road began to climb up towards the finish with five kilometres to go, it was apparent that they would decide the destination of the tricolour jersey between them.
Scarponi made no fewer than four attempts to forge clear of his companions, but on each occasion Rebellin inched his way back up to his wheel, bringing Santaromita with him. After Scarponi's final attempt fizzled out inside the final kilometre, Santaromita kicked for home with 500 metres to go.
The canny Santaromita timed his move to perfection. Rebellin tried once more to follow but was unable to hold on, while Scarponi was caught flat-footed. Although he came around Rebellin to claim second place, he was never able to get back on terms with Santaromita, who claimed only the second road race victory of his career after winning a stage of the Giro del Trentino – also ahead of Scarponi – in April.
For the second time in its history – the previous occasion being Massimo Podenzana's win in 1994 – the Italian championships were combined with the Trofeo Melinda, making for a particularly exacting course that many expected to favour local rider Moreno Moser.
Moser's Cannondale team duly put a lot of energy into controlling the race in the opening stages after the gruppo left the start in Malè, and led the pursuit of early escapees Omar Bertazzo (Androni-Venezuela), Stefano Borchi (Vini Fantini-Selle Italia) and Filippo Fortin (Bardiani-CSF Inox).
By the time the peloton reached the finishing circuit, which saw them tackle the climb to Fondo on five occasions, Alessandro Proni (Vini Fantini) had caught and passed the three leaders, but with Lampre-Merida now combining their weight of numbers with Cannondale, his move was destined to be snuffed out.
Stefano Pirazzai (Bardiani-CSF) attempted to slip away on the penultimate ascent to Fondo, and while he was quickly shut down, the winning move drifted clear shortly afterwards under the impetus of Rebellin, who brought Scarponi, Santaromita, Simone Stortoni (Lampre-Merida) and Alessandro De Marchi (Cannondale) with him.