SECONDA RISTAMPA! GRAZIE A TUTTI PER LA FIDUCIA E IL SOSTEGNO!
SECOND REPRINT! THANK YOU ALL FOR THE TRUST AND SUPPORT!

ACQUISTO LANGHE DOC - ITALIA (see below for outside Italy)

Oltre che in Streaming, Langhe Doc è distribuito anche in formato Dvd+Libretto (confezione in cartonato, noi ve la stra-consigliamo perchè è davvero bella, credeteci!) oppure solo Dvd.
Spedizione tramite Poste Italiane (pacco ordinario). Tempo di ricezione: da 3 a 15 gg.
Ci sono anche altri modi per acquistare Langhe Doc, guarda più sotto in questa pagina.

(per acquisti multipli - e scontati! - scrivici all'indizizzo info@produzionifuorifuoco.it)

CLICCA QUI PER COMPRARE DUE DVD+LIBRETTO A PREZZO SCONTATO: LANGHE DOC+ il film documentario BAROLO BOYS
(shipment outside Italy: please go below on this page )
OPPURE COMPRA LA NOSTRA WINELOVER EDITION : 2 DVD+Booklet + 1 dvd di contenuti extra dal film Barolo Boys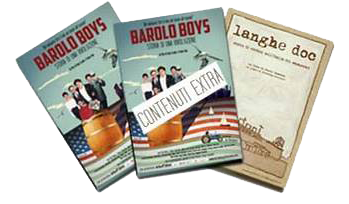 Sopra: la winelover edition di Barolo Boys: Barolo Boys DVD+ Libretto + 1DVD di contenuti Extra + Langhe Doc DVD+Libretto
_____________________________________________________________________________________________________

OUTSIDE OF ITALY

Langhe Doc DVD (with subtitles in English, Croatian) can be ordered and shipped worldwide.
You have two options:DVD only or DVD+BOOK
R
VERY IMPORTANT:
When you buy the dvd, please provide us a full and correct shipment address (we don't use DHL Services,
so the package will arrive directly in your letter box).


You can also watch Langhe Doc DVD directly on Vimeo
CLICK HERE TO BUY 2 WINE MOVIES: LANGHE DOC AND BAROLO BOYS AT DISCOUNTED PRICE!!!
OR BUY THE WINELOVER EDITION: 2 DVDs + 1 dvd of extra contents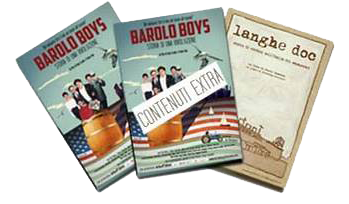 Above: our winelover edition: Barolo Boys DVD+Booklet + 1 DVD Extra Contents + Langhe Doc DVD+Booklet


____________ HAI ANCHE ALTRI MODI PER ACQUISTARE LANGHE DOC (ITALY ONLY) _______

BONIFICO BANCARIO (from Italy only)
E' possibile acquistare il dvd + libro tramite bonifico bancario di 13,9 euro (o 10 in caso di acquisto del solo dvd) a:
CASALIS PAOLO
CONTO BANCARIO N° 00000000003874
BANCO BPM, BRA PIAZZA C.ALBERTO 45
IBAN: IT76J0503446040000000003874
SWIFT CODE: BAPPIT21220
IMPORTANTE: dopo avere effettuato il bonifico scrivete a info@produzionifuorifuoco.it per comunicare l'indirizzo a cui desiderate ricevere il DVD
Spedizione tramite Poste Italiane (pacco ordinario)

________________________________________________________________________________




Langhe Doc
Una produzione/ Produced by Stuffilm Creativeye
Distribuito da/ Distributed by Produzioni Fuorifuoco
www.produzionifuorifuoco.it
info@produzionifuorifuoco.it